Who I am
André, professional wedding animator, at your service!
To know more about me and my background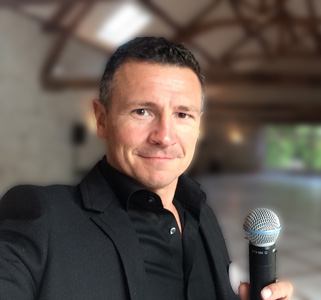 As far back as I can remember, I have always used my communicative energy to bring smiles and good mood around me, whether it is with family or friends, by making them participate actively in my madness!
It is therefore quite natural that I turned to…the animation business!
And for over 25 years now, I have been offering my services as an animator.
My favorite field? It's you!
For your wedding, I am in turn the officiant of a secular ceremony, a waiter, a Latin dance teacher, a magician, a director, a dj.
And to amaze the little ones, I am also a balloon sculptor.
Animation is more than a job, it is and must remain a passion. I love people and it is my vocation to make them happy by realizing their event project in the image of what they imagine.

He is passionate about his work and his teaching methods are wonderful
because he made EVERYONE dance without exception!
In 1997, I did my classes at Club-Med, the only animation "school" that offers you a complete experience on the organization and realization of very high quality events.
I studied the technical mastery of the presentation, the tricks and the comedic springs to realize sketches of any type. I quickly acquired the necessary professionalism to animate audiences of all nationalities.
In 2000 I left the club to work in Paris. I quickly entered the events circuit where, thanks to my experience, I was welcomed with open arms by professionals in the field.
Since then I work as a freelance consultant in the implementation and realization of event concepts.
In 20 years of touring, I have worked in different event positions, followed various trainings and optimized my knowledge in all areas of animation.

His friendliness, his tireless good humor
seduced them all without exception.