Sound and light equipment
On the technical side, the sound and light equipment plays a main role in your event because it enhances the room,
your decoration and the animations by creating a wow effect to your guests.
You immerse them instantly in your universe and you make them live a magical moment.
It is an essential tool that allows you to share your emotions with your loved ones.
The basic material included in all the packages
To ensure the enhancement of the animations of your guests and mine, I have sound and light equipment to animate a room of 300 people.
As for the sound system, I work with a DJ console connected to a computer, USB keys and hard disks as backup.
Everything is in duplicate to compensate for any technical failure.
I diffuse the sounds through three amplified speakers of 1000wath rms each (HK audio brand). With this tri-phonic system the guests will listen uniformly to everything that is played or spoken without distortion or excess power.
I put at your disposal 2 microphones HF and wired if necessary for the speeches.
On the light side, I have light strips that have two functions:
First of all, to highlight the animations of your guests and mine with a white stage lighting.
Then, we switch to disco mode with multicolored lighting, we add lighting effects that will animate your dance floor.
Additional technical options available
In addition to this basic equipment, I place at your disposal a series of technical options that will enhance the details of your evening.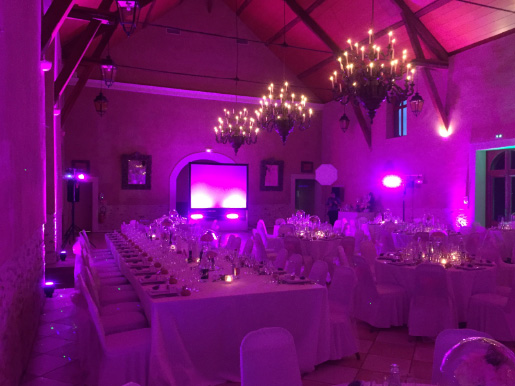 The screen and its video projector
It is not easy to walk around with a 2 meters screen in the trunk of your car and if the screen is smaller, you will not see the work that your friends have patiently done for the happiness of the bride and groom and the guests.
In order not to miss this visual testimony that will give a lot of pleasure to everyone, I invite you to take advantage of this option.
In addition to projecting the surprises prepared by your guests, you can take the opportunity to project a series of looped photos in the background during the entire meal. It is a very nice passive animation, testimony of your past lives, before and after your meeting.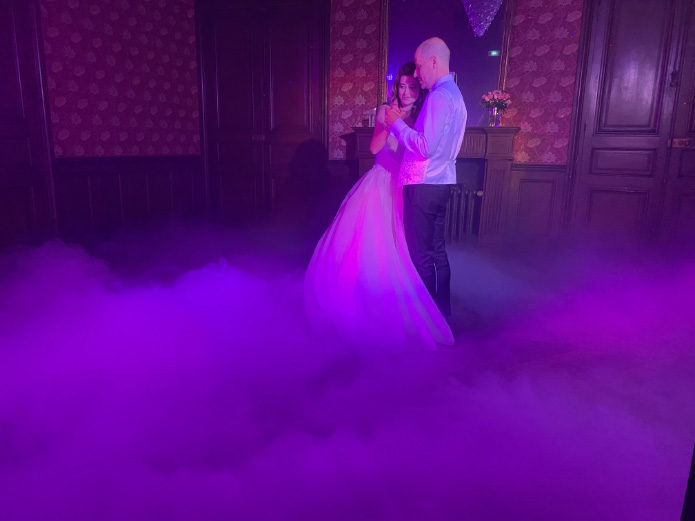 Heavy smoke
This particular option will allow you to open your ball by giving the appearance of dancing on a cloud.
Very chic and trendy, this heavy smoke does not use dry ice. It leaves no slippery trail and dissipates quickly as soon as the guests join you on the dance floor.
The effect is sensational and will allow you to take beautiful romantic pictures.
For a moment not to be missed, this option is a must!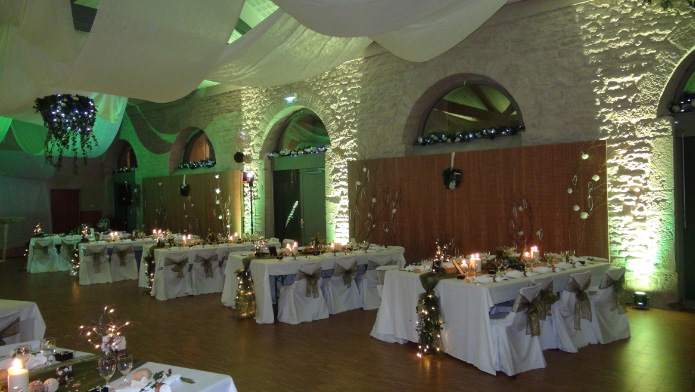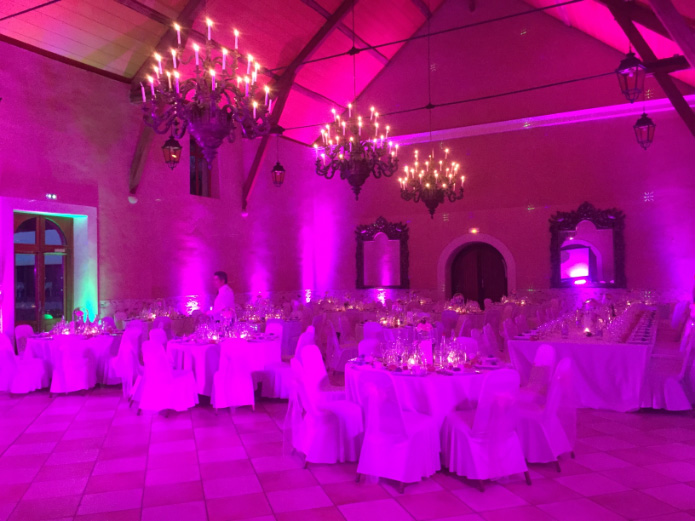 Additional lighting
In most French party rooms, chateaux or renovated farms, the lighting is often basic.
In the best case, they are low consumption bulbs and in the worst case, the lighting is made of neon tubes with cold and aseptic lights.
To best manage the type of lighting you personally want in accordance with the colors of your table decoration. This option of additional ambient lighting, will certainly meet your expectations.
A bright idea that consists of arranging a dozen shares (= lamps) on the floor to project a tunnel of light from floor to ceiling.
These lights are adjustable. You can choose from more than 300 colors.
These lamps after the dinner in fixed lighting, can, with a click, change into discontinuous lighting of discotheque.
You have the whole room transformed into a nightclub!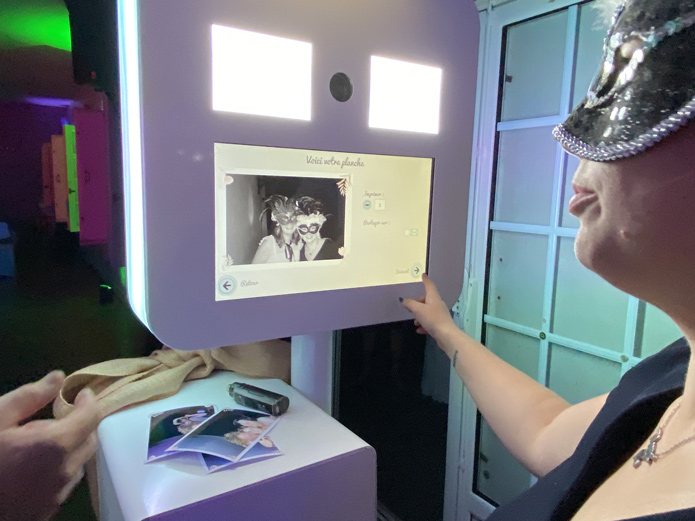 Photo Booth
I propose a technical service to you to allow you to keep in memory on paper and on hard disk, a sympathetic memory of all your guests.
This professional photo booth guarantees you great moments of laughter by offering your guests to take pictures of themselves, alone or with others, in an original way.
A set of accessories (hat, feather boas, fake moustache, wig, glasses…) are available to personalize their fun.
Optional price: 400€ for 500 photos


An exceptional animation in two languages, which allowed our two families to spend an unforgettable day.
Germany and France united with a lot of diplomacy and respect by a polyglot animator full of talents.
The variety of the animations allowed everyone to meet, exchange and have fun.
André was a real binder and played his role as a loyal gentleman from beginning to end with unfailing energy.
I recommend him in more ways than one!
Edfige and Roland for our unforgettable wedding
Frequently asked questions
How can we work together?
I invite you to leave me your contact information via the contact form (add the link to the contact section) as well as the subject of your request and as many details as possible about your needs. I will call you within 24 hours for a joint appointment. This first meeting is very important because it will allow us to know very quickly if we will work together. A wedding is a very sensitive event, based on the interpersonal relationship with your providers. A great trust is required.
Once our first contact is made, I send you a quote corresponding to your wishes. I leave you a few days to think about it, then upon receipt of your agreement in principle, I send you a contract to be signed and returned to me. As soon as I receive your contract, your date is locked and I am yours!
How long do I have to book your services before the wedding date ?
My service is part of the 3 pillars to obtain as soon as possible: the place, the caterer, the entertainer. 99% of the requests for wedding services I receive one year before the date of the event. I invite you to anticipate your reservations very quickly.
What are your rates ?
It depends on you! What you want for your wedding, what you need. Each service is unique and personalized. Tell me what you want and I will write you an estimate as precise as possible.
Which animations are included and which are optional?
All the animations mentioned are part of a unique package. The only animation that is optional is the karaoke because it requires the intervention of the screen and the video projector. The paying options are technical: heavy smoke machine, additional lighting, screen and video projector.
Do you accept to move?
I accept to move with my equipment in all France. Beyond 600km, I suggest you rent the technical part in a sound and light store near your home to limit the travel costs. I can reduce the costs by coming by train and lodging on site, all at your expense.
Are there any travel expenses?
Up to 100km around Paris I do not charge any travel expenses. Beyond 100km, I charge 50cts per km.
Can we come and see you?
Imagine that it's YOUR wedding and that you are watching curious strangers inviting themselves to "gauge" one of the most beautiful days of your life… I myself would not accept it for mine. In order not to disrupt the smooth running of the events, I have instead made videos explaining the animations very clearly. They are very clear and you will be able to project yourself easily, don't worry!
Accident of life, if you can't come to ensure the service what is the plan B ?
I have a partnership with other trusted self-employed animators with whom I have worked for 15 years. We share the same values and have the same objectives: to make your wedding one of the most beautiful days of your life.
Can we cancel the service and under what conditions ?
Once the contract is signed, in case of cancellation up to one month before the event, the deposit is kept but the rest is no longer due.
If the contract is broken within one month of the event, the amount of the deposit remains due.
Do you offer the services of a photographer and/or cameraman?
Since I have been working in the event industry, I have come across a lot of service providers. There are a few that I have slipped in my little papers because their professionalism was unblemished. They are referenced on my website.