The wedding animations
My animations are generous and rewarding.
You can choose among a whole panel of services to dynamize each moment of your wedding.
From the Welcome Wine to the end of the night. You choose the animations which make you want among those presented below.
Together, we can personalize them upon request to surprise
your guests even more.
Lay ceremony animation
For a more personal celebration of your union.
The officiant of the secular ceremony or false priest
What does it mean in concrete terms?
A presentation given by a ceremony officiant, written in collaboration with the bride and groom, explains to the guests the genesis of the couple, the reasons for the choice of their witnesses, the events that enhance their loved ones, music, or testimonials. Inspired by real events…or not!
The ceremony officiant can render this text in a very sober way or in the form of a sketch, depending on the tone that the bride and groom have chosen in the writing of the text.
To amplify the comic effect, I invite you to choose the fake priest or rabbi, to obtain a burlesque caricature of the events of your life that you wish to share.
The event takes place between the official ceremony and the welcome wine.
Who is it for?
The bride and groom offer a gift to the guests by revealing themselves in a much more personal way to the guests, whether this unpacking is real or imaginary!
It is also the ideal occasion for the bride and groom to pay homage to people who are absent that day, but present in the hearts.
The result?
A solemn moment or a lighter one that will allow your guests to be full of emotion.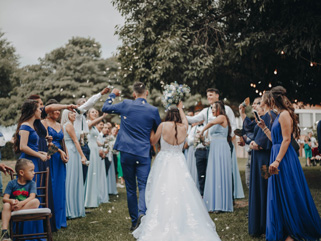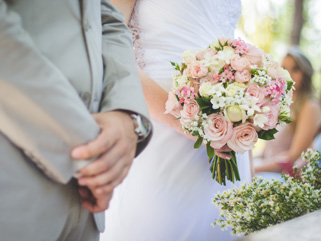 Animations for the welcome wine
During the welcome wine, which is often a formal moment,
I make the link between your guests in order to dynamize your beginning of evening.
Ideal to break the ice between your guests.
What does it mean in concrete terms?
Whatever the event, if there is one thing you can never remember, it is the waiter's face…
My fake waiter is a very committed, extremely zealous and… extremely distracted character. He's going to be busy explaining in great detail what people are about to eat.
A sort of "Smurf with glasses" who will subtly and seriously destabilize your guests. This will make it very difficult for the guests to help themselves.
This fake waiter uses his acting techniques to deceive the guests in a skillful and friendly way. He will surprise them with more and more burlesque and offbeat actions.
If you have a videographer to film your day, I coordinate with him to transform this animation into a real hidden camera. And transform this animation into a beautiful memory for eternity.
Who is it for?
For everyone. No vulgarity, no aggressive gestures. The fake waiter is apolitical, atheist and without handicap. He respects people morally and physically, and despite his clumsiness, he does not stain them!
The result?
The waiter will serve as an excuse for people to meet each other by serving as a link between groups that do not know each other. He offers them the possibility to join forces against him, to foment a plot to trap him in their turn. Your friends thus offer us a beautiful example of cohesion.
The result is guaranteed: years later it is a memory that your guests will still talk about.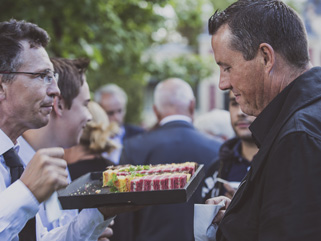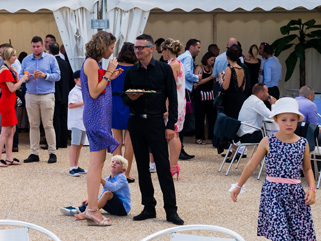 What does it mean in concrete terms?
Mister Balloon presents himself in front of all the couples of guests that you receive during the time of the wine of honor.
Under the pretext of a false order made by Mr., I realize a sculpture for Madam in the name of this one (in panic on the moment the space of a few moments).
I make a romantic figurine that surprises Madam and reassures Mister.
He wins points in the eyes of his sweetheart and she will spend an excellent beginning of evening.
Who is it for?
Of course children will quickly jump on the opportunity to get one in turn.
The animation targets in priority all adults – couples in particular.
The result?
A great and very pleasant surprise for your guests. Romance, smiles and sweetness for all.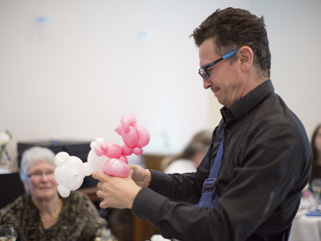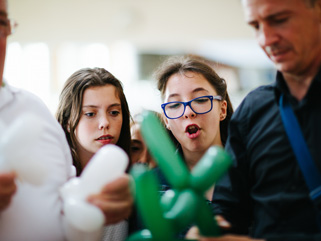 What does it mean in concrete terms?
Under the pretext of "sketching" your guests, this character will sympathetically trap your friends by caricaturing not their heads but an object, a detail that they wear.
The objective is to valorize them, to praise the qualities of each of my models during at least one minute to finally present them something which has nothing to do with their physical appearance.
I take as witnesses, the guests around who serve me as improvised accomplices. It is very funny to see them bidding on what I say and thus favors the interconnections between your guests who do not know each other.
Who is it for?
Each guest is a source of inspiration to create a real work of art of humor.
The result?
Everyone is trapped with great humor and ends up laughing to tears. This animation is a great excuse to introduce your guests to each other.
An animation not to be missed during your wine of honor.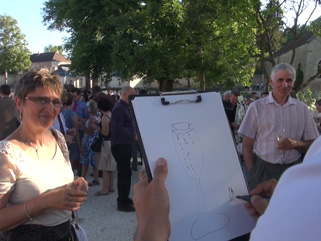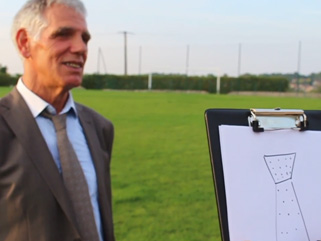 Wedding meal animations
As an intermission between courses to share a moment of complicity with your guests
Concretely, what is it?
Born in Indonesia, this animation was originally a real surprise for those who love to sing.
Today I invite the organizers of the event to choose, in the list of the songs which I place at their disposal, the songs which they would like to see their guests humming or shouting with full throat.
For whom?
For everyone, of course!
The result?
With a choice limited to 3 or 4 songs per table, the guests are invited to sing table by table or in groups, which brings sharing and good mood, without any embarrassment to push the song!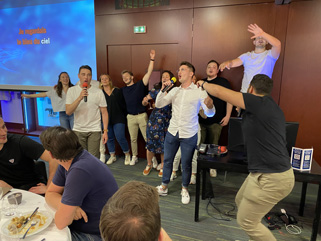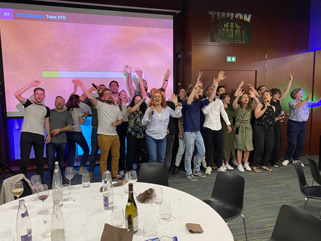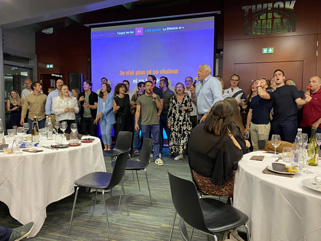 What does it mean in concrete terms?
A list of questions that players are invited to answer in several ways: by shouting, by pressing buzzers or by writing on panels.
The topics cover all eras from the 60's to today's music hits and news.
The content can be personalized by inserting, for example, questions specific to the people to be celebrated.
Who is it for?
For everyone, because the animation is intergenerational! The game is adapted to the level of the audience to arouse their interest as much as possible.
The result?
It is a privileged moment of sharing in a friendly moment conducive to exchanges.
It brings people together and forces guests who do not know each other to communicate together and generate team spirit.
The quiz is a great way to gently bring the guests into contact with each other. Ideal to liven up a dinner party.
The proof is on the movie!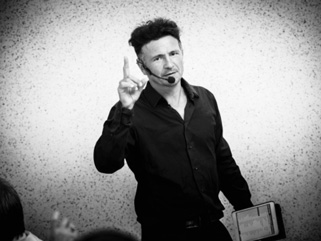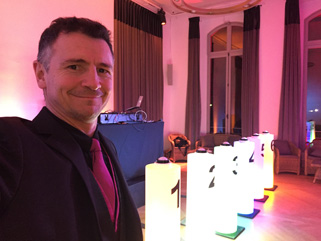 Concretely, what is it?
Contrary to the " Close-Up " which is a magic of proximity while passing from table to table, I propose a magic show in front of you for the pleasure of the greatest number of your guests. A magic demonstration that starts with naive tricks that will make children laugh. Then I will surprise the older ones with illusionism and great prestidigitation.
Who is it for?
I rely on the guests to help me perform the tricks. They become the heroes of the story. I integrate, in particular, the children who love this animation!
The result?
This performance takes place with a lot of elegance, poetry and humor. A great moment to share together.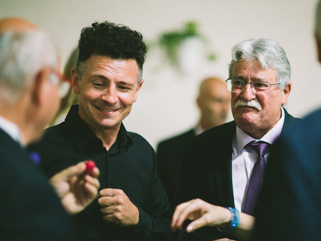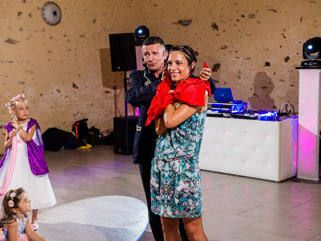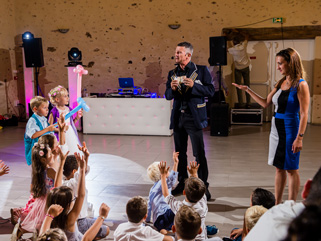 Wedding party entertainment
To put everyone on the dance floor, in a fun and friendly way.
Introduction to Latin dances
What is it in concrete terms?
A dance animation that invites you to travel, for a few minutes, under the sounds of the Cuban salsa. I quickly place the guests in a circle around the dance floor, alternating girls and boys. I explain them in a few seconds the basic steps. And I already invite them to change partners. The girls in one direction and the boys in the other direction. With this animation, I guarantee that everyone will dance at least once with everyone else during the evening.
Who is it for?
For you and all your guests, even those with three left feet!
Thanks to a very playful, humorous, interactive and caring personal teaching method all your guests will find their place in this wonderful exotic dance musical experience.
The result?
After a few minutes, your guests will be able to manage the basic step naturally and then quickly move on to simple figures to finally achieve an incredible complete choreography together!
The objective is to allow all your guests to meet and dance together in turn.
A huge moment of collective sharing that will surprise you (you will see relatives, friends, colleagues dancing that you would never have seen otherwise).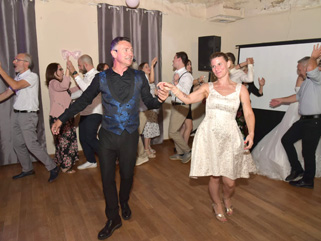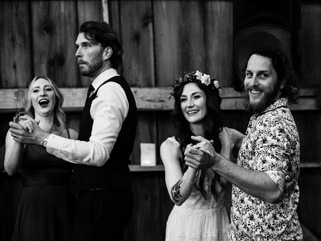 The Dance Battle: girls against boys
Concretely, what is it?
Based on Zumba techniques, the guests must try to reproduce the movements that the host performs on a stage or on the dance floor. The choreographies are short, which allows you to alternate the rhythm from faster to slower and vice versa, to keep a maximum of your guests on the dance floor without tiring them too quickly!
Who is it for?
A group activity that makes everyone feel uninhibited. No age limit!
All the guests will effortlessly participate in this dancing animation because they will be drowned in the group. It's always easier to be crazy when there are several of you doing it at the same time!
As for the Latin dance, you will have the chance to see people dancing that you would never have seen on any dance floor.
The result?
I launch your dance party in a few seconds. Under the pretext of an animation, I have the facility to gather all your guests on the dance floor. I start a common dance session that will quickly warm up your guests and push them to continue dancing solo until the wee hours of the morning! Nothing better to uninhibited even the stiffest of people to dance.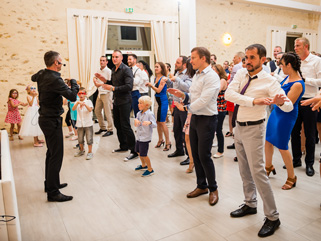 Concretely, what is it?
A sketch on the mode of improvisation with an extremely simplified play of actor.
It takes place in real time before your eyes.
The pitch: a director is about to shoot a film. With the help of the organizers who will have previously given the names of a dozen actors in the making, the film is put together scene after scene.
The props to make the play credible, to personalize and embody each character are provided by me.
Several scenarios are available. These can be animated in foreign languages (English, German, Dutch)
Who is it for?
For all, and for all ages, with a division into 2 categories: actors… and spectators.
What is the result?
It is a rewarding animation through which the participants will reveal themselves as the real heroes of the day.
The result will surprise and amuse with pleasure the others, remained spectators!
Laughter guaranteed and above all, important precision: no animal will be hurt during the shooting.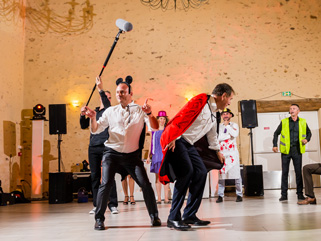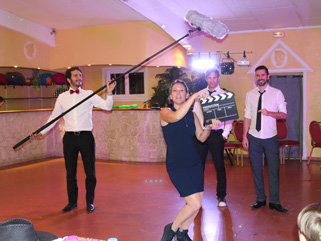 What is the DJ?
The icing on the cake of a complete and successful wedding. I complete this range of services by closing your wedding with the musical and dancing animation of your event.
With my 20 years of experience as a DJ, I have gathered the best songs from the last 50 years to invite your friends of all ages to dance to various and dynamic rhythms.
I use a playlist in which I will integrate your favorite songs. This way I can personalize your dance party to suit you.
Who is it for?
A collective activity that will speak to everyone. All the guests will effortlessly participate because there will be at some point "the" song they were waiting for to let loose and dance their heads off.
The result?
A dance party composed of a wide variety of songs that will please each of your guests. They are free to enjoy it until the end of the night!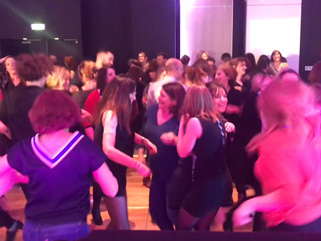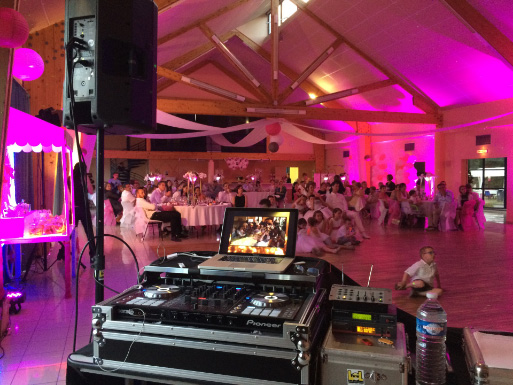 The whole day after we have nothing but compliments on André's performance.
Our entourage is composed of shy people. I had never seen some of them dance in my life.
They all participated with pleasure in the animations proposed by this experienced animator.
A huge thank you for André with whom we had a good laugh all evening.
We will keep your contact information to recommend you to our friends and family
who are looking for a versatile entertainer!
Noémie and Gaétan for our 20th wedding anniversary
Frequently asked questions
How can we work together?
I invite you to leave me your contact information via the contact form (add the link to the contact section) as well as the subject of your request and as many details as possible about your needs. I will call you within 24 hours for a joint appointment. This first meeting is very important because it will allow us to know very quickly if we will work together. A wedding is a very sensitive event, based on the interpersonal relationship with your providers. A great trust is required.
Once our first contact is made, I send you a quote corresponding to your wishes. I leave you a few days to think about it, then upon receipt of your agreement in principle, I send you a contract to be signed and returned to me. As soon as I receive your contract, your date is locked and I am yours!
How long do I have to book your services before the wedding date ?
My service is part of the 3 pillars to obtain as soon as possible: the place, the caterer, the entertainer. 99% of the requests for wedding services I receive one year before the date of the event. I invite you to anticipate your reservations very quickly.
What are your rates ?
It depends on you! What you want for your wedding, what you need. Each service is unique and personalized. Tell me what you want and I will write you an estimate as precise as possible.
Which animations are included and which are optional?
All the animations mentioned are part of a unique package. The only animation that is optional is the karaoke because it requires the intervention of the screen and the video projector. The paying options are technical: heavy smoke machine, additional lighting, screen and video projector.
Do you accept to move?
I accept to move with my equipment in all France. Beyond 600km, I suggest you rent the technical part in a sound and light store near your home to limit the travel costs. I can reduce the costs by coming by train and lodging on site, all at your expense.
Are there any travel expenses?
Up to 100km around Paris I do not charge any travel expenses. Beyond 100km, I charge 50cts per km.
Can we come and see you?
Imagine that it's YOUR wedding and that you are watching curious strangers inviting themselves to "gauge" one of the most beautiful days of your life… I myself would not accept it for mine. In order not to disrupt the smooth running of the events, I have instead made videos explaining the animations very clearly. They are very clear and you will be able to project yourself easily, don't worry!
Accident of life, if you can't come to ensure the service what is the plan B ?
I have a partnership with other trusted self-employed animators with whom I have worked for 15 years. We share the same values and have the same objectives: to make your wedding one of the most beautiful days of your life.
Can we cancel the service and under what conditions ?
Once the contract is signed, in case of cancellation up to one month before the event, the deposit is kept but the rest is no longer due.
If the contract is broken within one month of the event, the amount of the deposit remains due.
Do you offer the services of a photographer and/or cameraman?
Since I have been working in the event industry, I have come across a lot of service providers. There are a few that I have slipped in my little papers because their professionalism was unblemished. They are referenced on my website.